AFU is constantly expanding with its latest addition of 2 200 kilos of books, UFO reports, magazines, films, pictures and much more being added from Great Britain in September 2022.
If you want to be a part of AFU and help us with a monetary donation use Swish (if you are in Sweden) 123 585 43 69 or our plusgiro 49 07 14-3 .
If you are outside Sweden please use PayPal: afu[at]ufo.se or some of the other options listed here: How to donate to AFU.
Hyresbostäder, who AFU is renting our localities from, made a visit to the archive in late October 2022.
This is what it looked like when we were loading a truck in London August 19th 2022.
Here you will find a presentation of AFU.
We are a group of dedicated researchers that, since 1973, works for saving UFO and paranormal files from all around the world. With around 6,600 square feet and a total shelf capacity of 3,4 kilometers (+2 miles) to our disposal we have now hit the ceiling and need your help to get better, bigger and more available to everyone with an interest in "the unknown".
AFU stands for Archives For the Unexplained but once meant Archives for UFO research. But our expansion into other areas of the unknown made us change our name.
We hold huge files on UFOs, ghosts, sea monsters, strange creatures like Big Foot and elves, sightings of Jesus and angels, parapsychology, Ghost Rockets, unusual and strange natural phenomena, astronomical enigmas, folklore and science fiction.
Our localities are filled with millions of documents, pictures, films, audio recordings, and paraphernalia. Visit AFU.se to take a look or just browse the film clips from 7 of our 16 localities down here. We have also a large digital collection, including 240 GByte scanned magazines that can be accessed at AFU Downloads.
We are situated in Sweden but we are a truly international archive. We have saved files and archives from many ufologists and UFO groups around the world. To name some of them:
Flying Saucer Review
The world's longest running UFO magazine and a UFO group that started 1955.
Centro de Estudios Interplanetarios (CEI)
Barcelona based group that started in 1958.
Wendelle Steven's files
American long time UFO publisher.
Skandinavisk UFO Information (SUFOI)
A Danish UFO group that started in 1958.
Contact International
British UFO group that started in the 1950's.
UFO-Sverige
Swedish UFO group that started in 1970.
British UFO Research Association (BUFORA)
British UFO group that started in 1964.
UFO-Norge
Norwegian UFO group that started in 1972.
Borderland Sciences Research Association
An early American occult-oriented group that started in 1945.
William Corliss files
American physicist 1926–2011 who published numerous books on Fortean topics under the label "The Sourcebook Project".
We also keep the entire files or part of them from private international ufologists like Hilary Evans, Rick Hilberg, John Otto, Janet and Colin Bord, John Rimmer, Bob Rickard, Nigel Watson, Gunter Hofer, John Hanson, David Sankey, Omar Fowler, Busty Taylor, Peter Rogerson, Lionel Beer, Mike Hutchinson, Wendelle Stevens, David Clarke, Paul Fuller, Steven Gerrard, Margaret Fry, Norman Oliver, Jenny Randles, Kalevi Mikkonen, Edith Nicolaisen and many more.
If you want to read more about AFU, please order the book "Files of the unexplained" in AFU Shop.
What AFU has that no one else has is:

Experience – We have done this since 1973.
Staff – We have people working at AFU HQ every Monday to Friday.
Control – We are not planning to send our files to institutions that we do not know if they will have an interest in our topics in the long run, but are planning for keeping AFU going.

We are also planning to move all our files to one locality. That is of course depending on many things. One is a planned crowdfunding.

We are also in contact with the community of Norrköping and with their politicians and are attending many of the cultural activities in the community as a partner at the same level as the library, theater or museums.

That makes us a part of Norrköping, accepted and treated as not just a "UFO archive" but as one important archive among others. This is extremely important when it comes to building a future for AFU.
To find us use the map below. We are at Ljuragatan 89 in Norrköping and it is stated "AFU" on the two doors. The one to the left is the main HQ.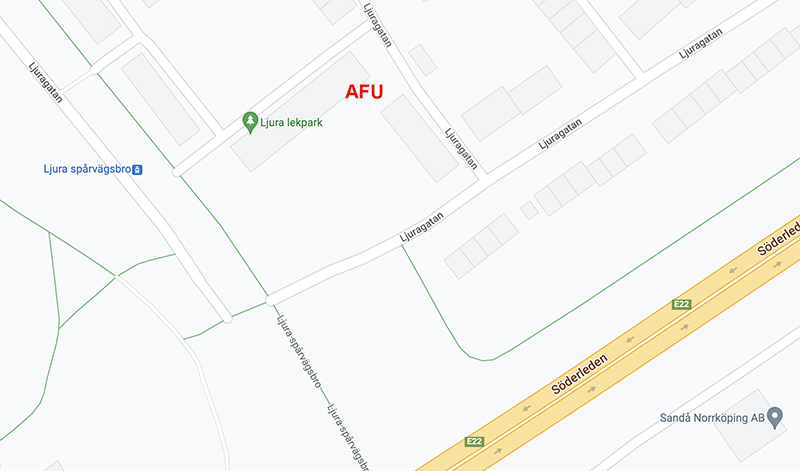 Here you will find two film clips from two different exhibitions UFO-Sweden and AFU arranged in 2022. The first is from our 50th year anniversary in Norrköping and the second from Vadsbo Museum in Mariestad the same summer.